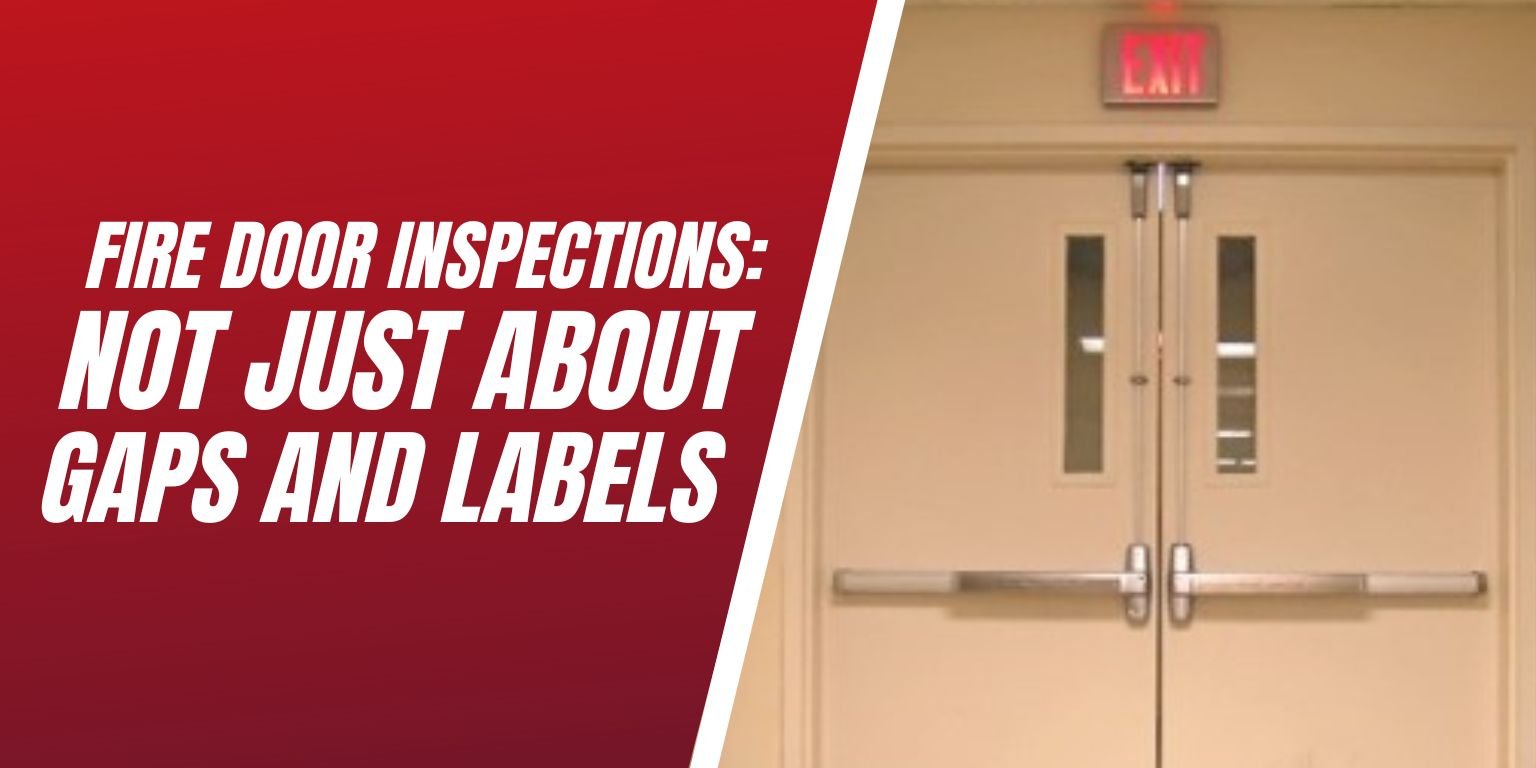 Fire doors are quite the popular topic among fire safety professionals and facility engineers these days. The most common misconception about fire doors we have heard over the past several years is that facilities believe they can get away with just replacing missing labels and shimmying gaps in order to pass their Joint Commission or their annual inspection by their AHJ's. Oh, if fire doors were only that easy!!
Fire doors are surprisingly complex devices, with hundreds of moving parts and well-thought out designs to protect from fire. There are door and hardware consultants who offer consulting services associated with openings – from door and frame components, hardware to access/ security systems, and related products, these consultant offer architects help when trying to choose the correct doors for a given a facility. There are special courses and tests offered by the Door and Hardware Institute and the International Fire Door Association that provide an inspector with the proper skills needed to perform annual inspections on these devices as the code requires. Fire door inspection is complicated and requires a knowledgeable professional in the field to perform the annual inspection as accurately as NFPA 80 requires. However, despite all of the education that has been circulating on fire safety blogs, social media, webinars and engineering events, there still seems to be the misconception that AHJ's and other regulatory agencies search for only two things during fire safety inspections: gaps and labels. We can't express to you how incorrect it is to only focus on these two items of NFPA 80. Perhaps it is best if we review the inspection points again:
Fire Door Requirements For Annual Testing
5.2.4 Swinging Doors with Builders Hardware or Fire Door Hardware.
Inspection Points per NFPA 80 5.2.4.1 - Fire door assemblies shall be visually inspected from both sides to assess the overall condition of door assembly.
5.2.4.2 As a minimum, the following items shall be verified:
(1) No open holes or breaks exist in surfaces of either the door or frame.
(2) Glazing, vision light frames, and glazing beads are intact and securely fastened in place, if so equipped.
(3) The door, frame, hinges, hardware, and noncombustible threshold are secured, aligned, and in working order with no visible signs of damage.
(4) No parts are missing or broken.
(5) Door clearances at the door edge to the frame, on the pull side of the door, do not exceed clearances listed in 4.8.4 and 6.3.1.
(6) The self-closing device is operational, that is, the active door completely closes when operated from the full open position.
(7) If a coordinator is installed, the inactive leaf closes before active leaf.
(8) Latching hardware operates and secures the door when it is in the closed position.
(9) Auxiliary hardware items that interfere or prohibit operation are not installed on the door or frame.
(10) No field modifications to the door assembly have been performed that void the label.
(11) Gasketing and edge seals, where required, are inspected to verify their presence and integrity."
There is a reason that over 90% of fire rated doors are not in compliance with NFPA 80* – they are complicated and consist of much more than just labels or poor clearances (gaps) around the perimeter of the door. There is a whole list of items to look for when inspecting a fire-rated door and door assembly, and it takes a trained eye to spot the problems that could potentially cause you facility a significant threat from the loss of fire.
Contact Us Here or call today at 888-675-4519 to learn more about how we can help you with your fire door requirements for annual testing.
*Based on LSS inspection data.
LSS Fire Door Inspection Team
LSS' fire door inspection protocol is one of the industry's most detailed. Not only does our certified fire door inspection team ensure that your fire doors are code compliant and are working properly but they also provide you with proof for you AHJ with the best report in the business.
LSS technicians hold multiple fire door inspection certifications from industry-best organizations such as the Door and Hardware Institute and the International Fire Door Inspector Association.