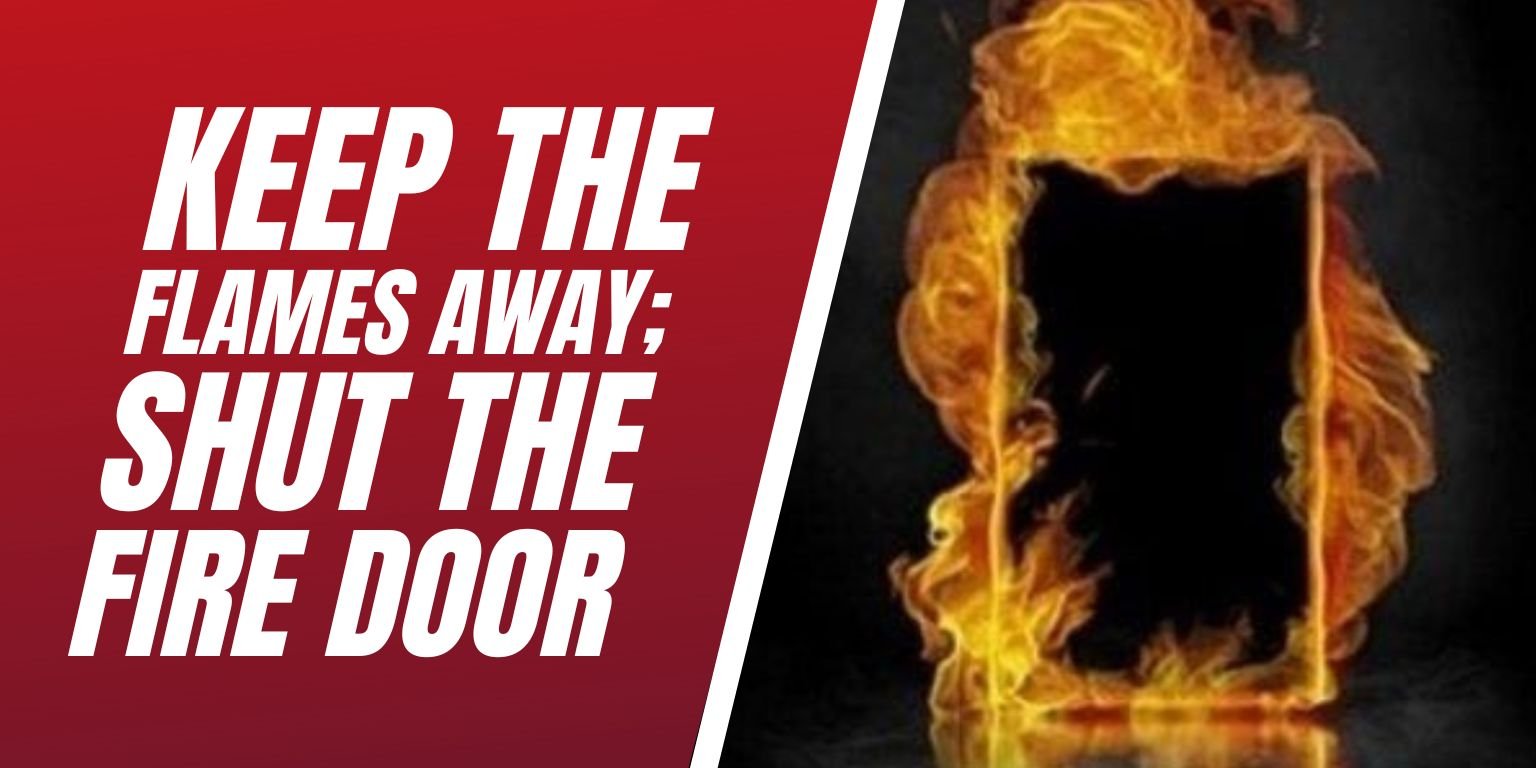 Shutting fire doors might seem like a simple request, however leaving fire doors propped open is more common than what you might think. Most of the time, building occupants lose site of the important function that fire doors serve which is to compartmentalize the facility and prevent fire and smoke from passing through room to room in the event of an emergency. These complex components of the passive fire protection system should take priority and undergo routine maintenance to ensure optimal performance as its operations could be the difference between life or death.
It is safe to assume that building occupants should know which doors are considered fire doors within the facility due to proper labeling. It's critical that all occupants are aware of the structures fire safety plans and procedures to ensure everyone is prepared for a fire emergency. Facility managers and occupants can aid in keeping the building safe through day-to-day operations by keeping a vigilant eye open for any obvious deficiencies, altered labels and most importantly propped open doors.
Keeping fire doors shut, reporting deficiencies and facility managers staying on top of routine maintenance and annual inspections are the most important things to remember when it comes to the complexity of fire doors.
Fire Door Deficiencies
Common deficiencies found while performing a fire door inspection listed below.
Painted, missing or illegible fire door labels

Poor clearance dimensions around perimeter of a closed door

Kick down door holders

Auxiliary hardware items that interfere with intended function of the door (barrel & dead bolts)

Area surrounding the fire door assembly blocked by furniture, equipment and/or boxes

Broken, defective or missing hardware (latch bolts, strike plated, closer arms, cover plates, etc.)

Fire exit hardware installed on doors that are not labeled for use with fire exit hardware

Missing or incorrect fasteners

Bottom flush bolts that do not project 1/2″ into the strike
Fire Door Inspections
Fire doors play a pivotal role in the overall fire protection system of all buildings, big or small. Compartmentalization provides additional time for evacuation as it is designed to prevent fire and smoke from passing through to other areas of the facility. Keeping the flames contained in the area of origin is key to saving lives and extinguishing the fire as soon as possible. If fire doors are not working properly, your facility is at severe risk.
The 2007 Edition of NFPA 80 states that fire-rated doors should be tested for functionality no less than annually. A written record of the inspection must be kept on file for the Authority Having Jurisdiction. LSS' fire door inspection protocol is one of the industry's most detailed. Not only does our certified fire door inspection team ensure that your fire doors are code compliant and are working properly but they also provide you with proof for you AHJ with the best report in the business. Our web-based report includes the following:
Fire Door Repairs
Once a fire door inspection has been completed, a detailed report of deficiencies found should be provided. These deficiencies need to be repaired as soon as possible since the facility is non-compliant without these issues being fixed. Per LSS data, 90% of fire rated doors inspected are not in compliance with NFPA 80. In the event that the fire door cannot be repaired, our expert technicians will assess the door and provide all the necessary information. Altogether, you'll have the information needed to make an informed decision about complete fire door replacement or major repair.
LSS technicians hold multiple fire door inspection certifications from industry-best organizations such as the Door and Hardware Institute and the International Fire Door Inspector Association. To learn more or to schedule your fire door inspection or repairs service, Contact Us Today.