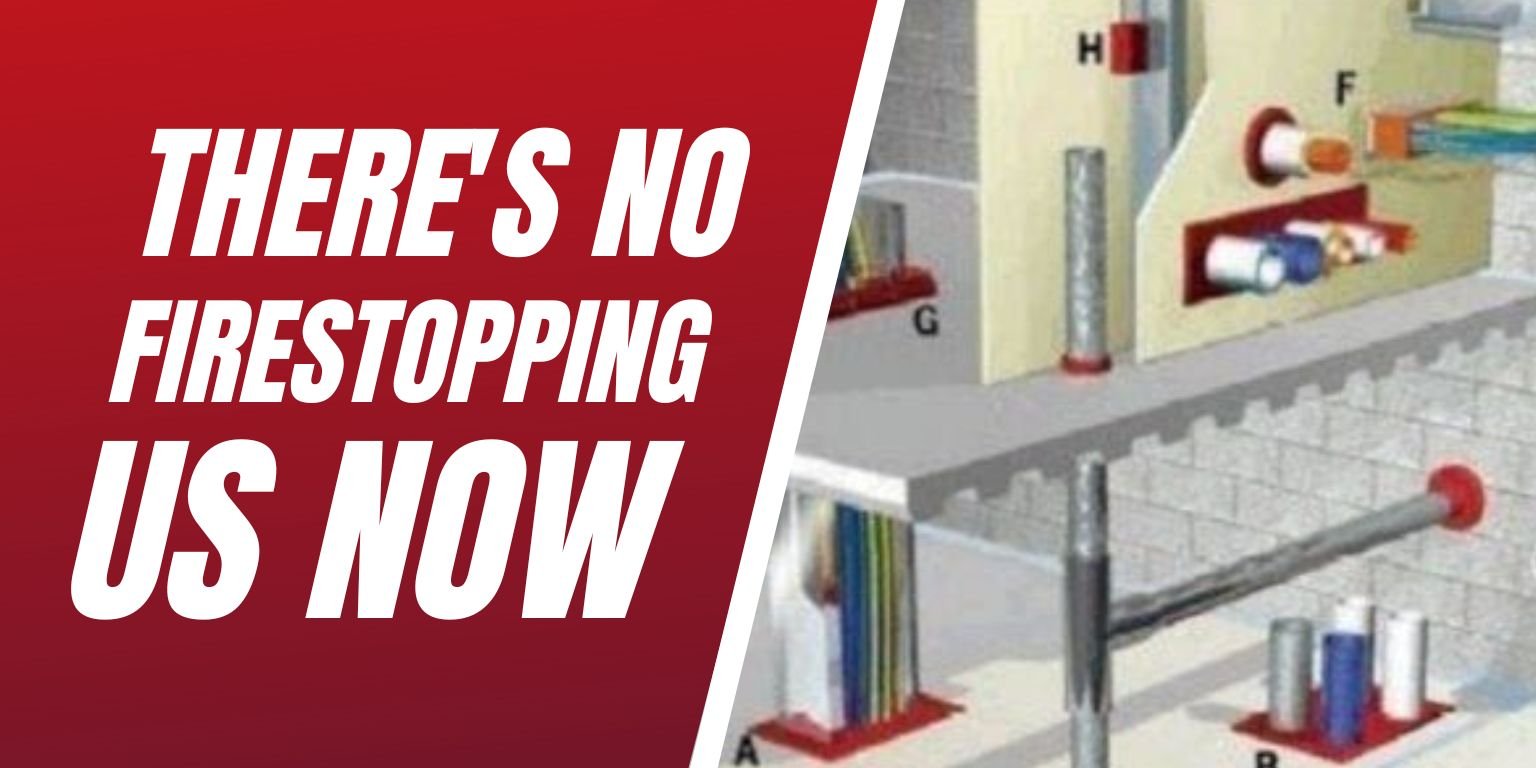 In the event of a fire emergency, ensuring your building occupants have a quick and safe evacuation route is of the upmost importance. So, how can you guarantee your building occupants will be provided with a quick and safe evacuation route?
Compartmentalizing a facility is one of the best ways to help contain fire and smoke to its point of origin while waiting for first responders. One of the many ways to compartmentalize a facility is through the use of the building's fire barriers. Fire walls, partitions, and smoke barriers are designed to help prevent the spread of both fire and smoke in the event of a fire emergency. Unfortunately, if a building's fire barriers have not been properly maintained, then fire and smoke will spread quickly causing unnecessary property damage as well as putting people's lives in danger.
Common Firestopping Issues:
Incomplete firestopping
Mixing manufacturer's products
Improper Installation – firestop caulk
To maintain the integrity of a wall, proper firestopping will seal off any holes and gaps and help minimize the spread of fire and smoke. Firestopping has become a key component to a building's over all fire and life safety system. Firestop materials are used to seal up any spaces that surround penetrating items, such as plastic pipes or wires. This items will even melt or change shape during a fire, which is why some firestop materials will also expand in the presence of heat. This swelling action seals and stops the spread of fire and smoke to other rooms and even floors within a building.
Maintain Your Building's Fire And Smoke Barriers With Firestopping
The International Fire Code (IFC), the International Building Code (IBC) as well as the National Fire Protection Association (NFPA), require routine maintenance of a facility's fire barrier walls. Each state walls should be properly repaired when damaged, altered, breached or penetrated. Any penetrations found should be repaired with approved methods capable of resisting the passage of smoke and fire.
Firestop Survey
LSS Life Safety Services offers firestop surveys, an inspection that detects breached fire walls and ceilings. Our professional firestopping survey assists in developing an overall strategy but also helps locate any existing damaged areas within the fire safety system. After reviewing survey results, repairs should take place as soon as possible to ensure there is adequate protection from fire and smoke spreading throughout the building in the event of a fire.
Firestop Survey Includes:
Detailed fire barrier survey; Statement of Conditions (SOC), including type of barrier, description of penetration/opening needing firestop installation and recommended UL-classified firestop

Minor firestop installation ("Caulk and Walk") completed during the survey

Digital pictures of the penetration/opening in need of repair
Firestopping Installation
We are a team of experts that are highly educated to determine the most effective components to slow the spread of smoke and fire should a fire emergency occur within your facility. Managers are FM and DRI certified. Installers are OSHA 10 trained, STI FIT level certified and armed with extensive installation experience with STI, 3M AND Hilti systems.
FM 4991-certified to provide firestop installation services
Install UL classified Firestop systems based on Statement of Conditions

Prepare submittal documents to submit to AHJ

Master report with Digital Documentation listing UL classified Fire Stop systems installed
LSS Life Safety Services
Our technicians have the experience combined with firestop training from industry leaders such as Specified Technologies Inc. (STI), Hilti and 3M, that allow us to provide the right mix of industry background and training to remain an industry leader in firestop surveys and installation.
LSS Life Safety Service will provide exceptional fire safety service along with comprehensive reporting with detailed imaging for your records. Allow us to ensure your facility is safe for your occupants and deliver piece of mind knowing it's secure from any fire threats. Give us a call today to discuss the many different firestopping components that should be implemented within your fire safety plan.