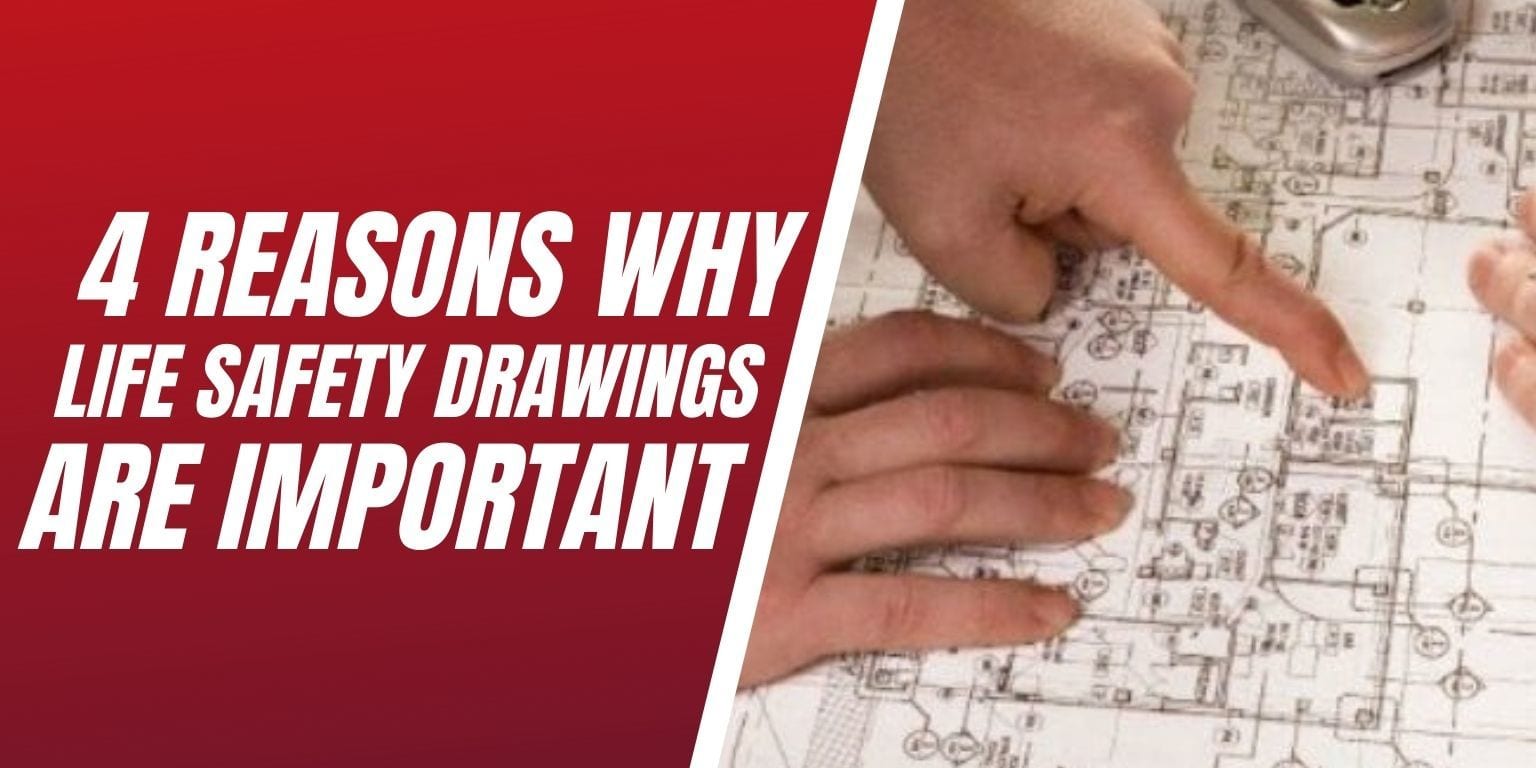 Healthcare facilities are "Defend in Place" facilities. So, in the event of a fire, patients who may be tied to life support machines or going through an operation would not be able to evacuate. In fact, many patients in hospitals, as well as nursing homes, are unable to be moved or are too sick to move quickly enough to escape danger during a fire. To help fight this, compartmentalizing your facility helps prevent the spread of flames and smoke, while also protecting those who have little to no mobility. This is why it is so important to make sure that your facility's fire and life safety systems are regularly inspected and maintained. The best way to ensure all of your facility's systems have been inspected and repairs is to have life safety drawings.
Life Safety drawings are floor plans of the building that identify each fire and life safety system. Up-to-date maps of your facility are an important part of your Fire and Life Safety program. They are used during the inspection to help the inspector locate each fire and life safety system.
Top 4 Reasons Why Life Safety Drawings Are Important To Your Facility's Fire and Life Safety Program
Life Safety Drawings Are A Required Component of the Statement of Conditions (SOC)
There is currently no statement in the accreditation manual to spell out the requirements for SOC drawings. However, The Joint Commission expects drawings to meet minimum standards anyway.
The Basis for the Fire and Life Safety Program
A facility's Life Safety Drawing is basically a map of the building's fire ratings of doors, dampers, walls and ceilings. They not only help you to maintain your facility's fire barrier but also help you to plan for it as well.
Life Safety Drawings are Essential for Barrier Management
Because many healthcare facilities have occupants that are mostly incapable of self-preservation because of age or illness, the buildings require several types of fire safety features which are identified on the drawings.
Improve Communication with Techs, Contractors, and Surveyors
Providing accurate up-to-date maps and documentation not only help you prepare for an inspection, but they also help inspectors, contractors and even surveys prepare. They will have a layout of your facility and the location to each of your building's fire and life safety systems.
Why Contract With Another Company?
Accurate Life Safety drawings are an important part of your Life Safety program. Whether you need to update existing drawings, or start from scratch, making sure your facility is safe and in compliance with up-to-date plans is just as important as the maintenance of each system.
These maps create an overlay of the facility's Life Safety features on the existing floor plan. Floor plan drawing service is also available. Life Safety drawing components include:
Fire-rated walls (1 hour, 2 hour, etc.)
Fire and smoke doors
Fire and smoke damper locations
Smoke barriers
Fire alarm pull station locations
Fire extinguisher locations
Building exit locations
Hazardous area markings
Color-coded with drawing key
PDFs and DWG files provided
Need help with your facility's Life Safety Drawings? Contact Us Here, or call 888-765-4519 and find out how we can help you with updating existing or creating new drawings for your facility.