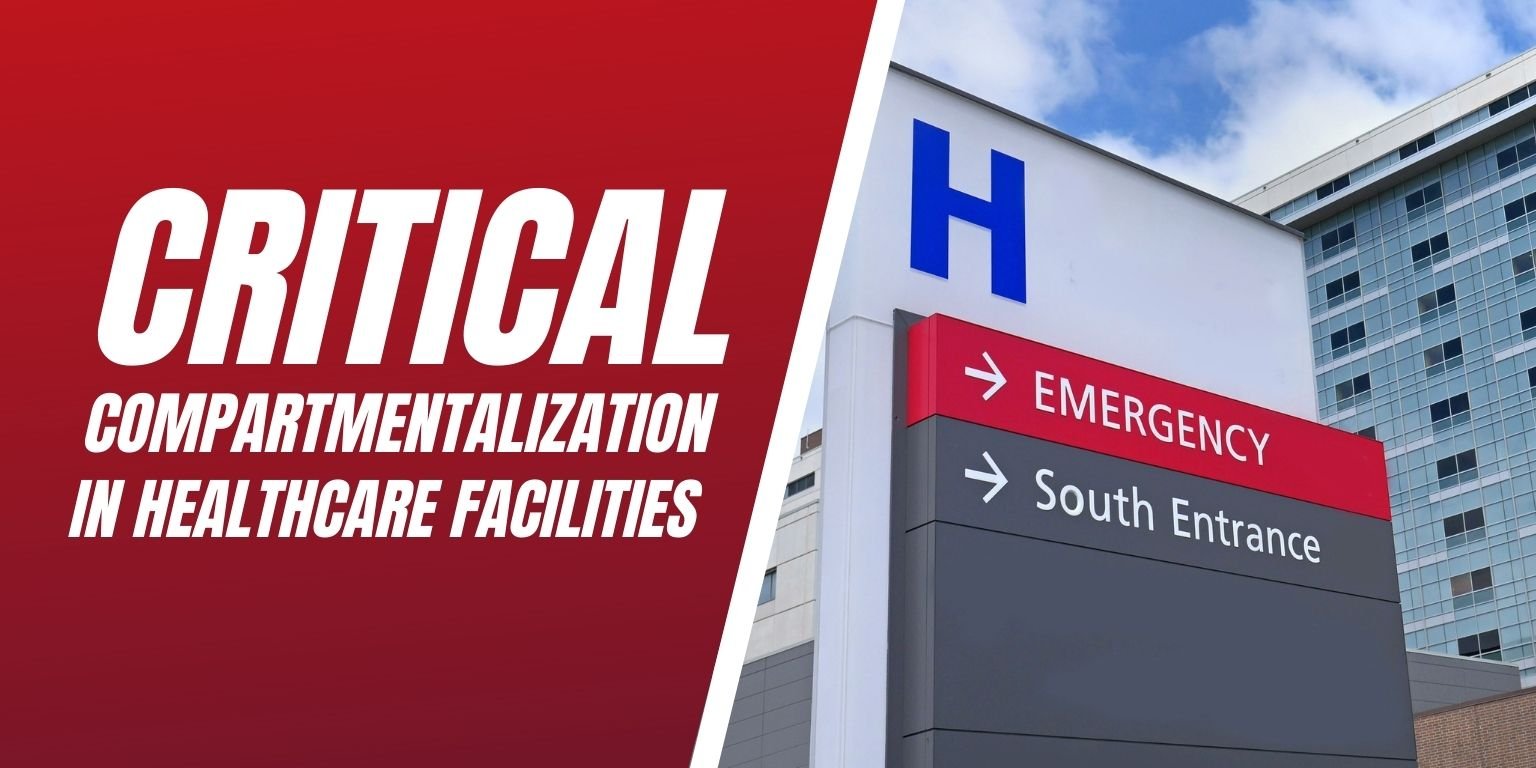 The passive fire protection system of a system plays a critical role in the overall safety of a building. As the component within this system each having designated duties assigned in specific areas within the facility. Each having one sole function: prevent the spread of smoke & fire and most importantly save lives.
Every type of facility relies heavily on the passive fire protection system to kick in when there is an active fire. This is especially true inside the walls of any healthcare facility due to there being occupants inside that need extra help being evacuated as this can be a very tough task in the event of a fire emergency. The safety of nurses, doctors, patients and visitors is the topmost priority of all facility mangers. Fire door specifically play a critical role within healthcare facilities and gives all building occupants the best change of a safe evacuation if functioning properly.
Defend in Place Facilities
Healthcare facilities are categorized as a 'Defend in place' facility which means that in the event of a fire, patients who are connected to life support machines or on the operating table, would not be able to evacuate. Unfortunately, most patients in hospitals and residents in nursing homes are unable to evacuate at all due to the severity of their illness and their overall health status. Compartmentalization is critical in this situation, as it will help contain fire and smoke in the area of origin, while providing those who have little to no mobility protection. Fire doors in healthcare facilities function just as any normal door would. The important thing to remember is that for a fire door to function as intended and provide the protection to all facility occupants it must remain closed at all times. Never propped open and firmly closed.
Fire Door Code
Fire doors are complicated as they consist of many different parts that actively work together to prevent the spread of fire and smoke throughout a facility. However, deficiencies can occur over time, so it's important to know what to keep an eye out for. To assure that fire doors are working properly NFPA 80 section 5.2.1 mandates that fire doors should be inspected and tested at least once a year.
NFPA 80, Section 5.2.4.2

:

states that, as a minimum, the following items must be verified:
No open holes or breaks exist in surfaces of either the door or frame.

Glazing, vision light frames & glazing beads are intact and securely fastened in place, if so equipped.

The door, frame, hinges, hardware, and noncombustible threshold are secured, aligned, and in working order with no visible signs of damage.

No parts are missing or broken.

Door clearances at the door edge of the door frame, on the pull side of the door, do not exceed clearances listed in 4.8.4 (the clearance under the bottom of the door shall be a maximum of 3/4″) and 6.3.1 (top & edges 1/8″).

The self-closing device is operational; that is, the active door completely closes when operated from the fully open position.

If a coordinator is installed, the inactive leaf closes before the active leaf.

Latching hardware operates and secures the door when it is in the closed position.

Auxiliary hardware items that interfere or prohibit operation are not installed on the door or frame.

No field modifications to the door assembly have been performed that void the label.

Gasketing and edge seals, where required, are inspected to verify their presence and integrity.
Fire Door Deficiencies
Most common Fire Door deficiencies include the following. Painted or missing fire door labels, poor clearance dimensions around the perimeter of the door in the closed position, kick down door holders, auxiliary hardware items that interfere with the intended function of the door, fire doors blocked to stay in the open position, area surrounding the fire door assembly blocked by furniture, equipment and/or boxes, defective or missing hardware items, fire exit hardware installed on doors that are not labeled for use with fire exit hardware, missing or incorrect fasteners and bottom flush bolts that do not project 1/2″ into the strike.
Stay Compliant with LSS Life Safety Services
Working or living in a facility with high-risk occupants who are unable to protect for themselves in the event of an emergency can be challenging. As facility managers, they depend on us to do everything possible to keep them safe in the event of fire. Contact us here or call today to discuss inspection or repair services your facility needs to ensure it is compliant and ready to shield immobile occupants if a fire emergency were to break out. You're Safe with Us.