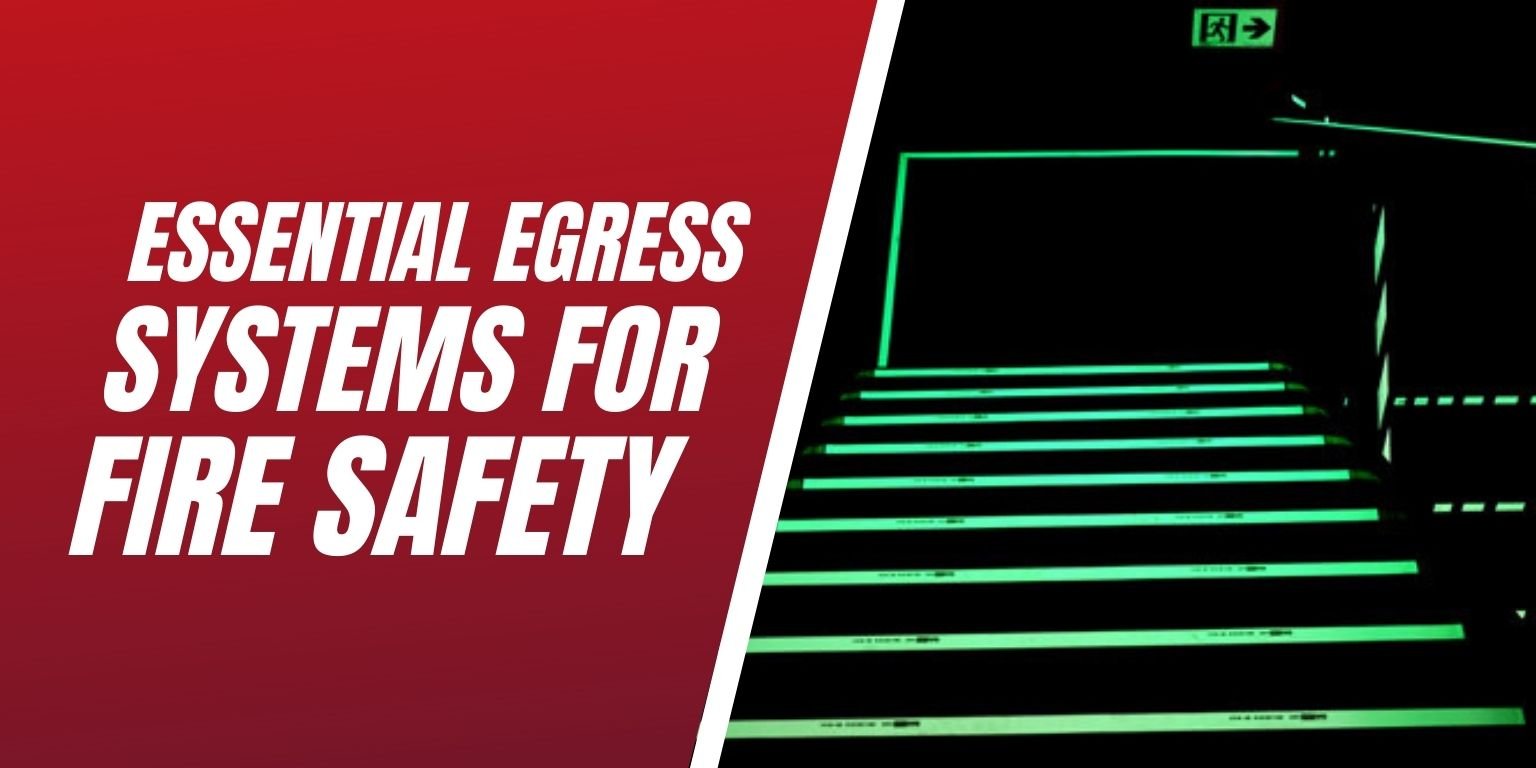 A system that is commonly taken for granted by facility managers and occupants is the egress system, ultimately, designed to ensure a safe route for occupants out of a building in the event of an emergency. Photoluminescent Egress Path marking systems and signage are critical components within the overall fire and safety plan of a facility. It's very common for electricity to be lost during an active emergency within a building, leaving it dark and impossible to navigate through. Without these systems in place, building occupants are put in severe danger of not being able to safely evacuate, in some cases, leading to casualties that could have been avoided.
Photoluminescent egress markers and exit signage are strategically placed within facilities to indicate the path occupants should take to evacuate safely and quickly. Smoke travels quickly and is just as big of a threat than the fire itself. Occupants who encounter smoke can experience disorientation and clouded vision, which is why these systems are in place to provide assistance to those who may be impaired while evacuating. These systems should be routinely checked to ensure functionality. These paths can save lives in the event of a fire emergency and should be prioritized in your fire safety plan.
Fundamentals of Egress Signs and Path Markings
The Photoluminescent egress path marking system and exit signs have the ability to function during a fire emergency due to their design being non-electrical. Photoluminescence creates an outline of steps, landings, handrails and other obstacles in a smoky or blackout area within a building to prevent other accidents. Photoluminescent systems are engineered to last the lifespan of your facility, providing continued visual safety support over traditional lighting measures that could be negatively affected by fire and smoke.
The Installation of Photoluminescent Egress Path Marking Systems and Photoluminescent Signs include: Exit Signs, Directional Signage, Stairwell Signage, Stair Nosing and, Handrail Marking.
Fire Safety Egress Code
According to both the International Building Code and International Fire Code, "luminous egress path markings that outline the exit path should be provided in buildings having floors that are located more than 75 feet above the lowest level of a fire department vehicle".
According to the National Fire Protection Association (NFPA) Life Safety Code 101, means of egress must be marked with egress signage, such as "Exit" signs in all the required areas. Exit signs must mark all exits and accesses to exits with visibly legible letters that are at least 4 inches tall. When the direction to safety is not clear, the sign must be marked with a chevron-shaped directional pointer. However, any door, corridor or stairwell that is not an exit or an access to an exit, and which could be mistaken for an exit, is to be identified by a sign reading "No Exit". The word "No" must be at least 2 inches tall, while the word "Exit" must be 1 inch tall.
International Fire Code (IFC)

-

Chapter 10 Means of Egress, Section 1024 Luminous Egress Path Marking.

State of California Building Code

-

Chapter 10, Means of Egress requires in Group A, E, I, R-1, R-2 and R-3 Occupancies, in Exit corridors leading to Emergency Exit stairwells.

State of Connecticut, Section 1026 -

Requires in Group A, B, E, I-1, I-2, R-1 and R-2 occupancies, in Exit corridors leading to Emergency Exit stairwells.

New York City Building Code -

All non-residential structures

New York City Local Law 26 Compliance

General Services Administration (GSA)

-

Exit Path Markings
Illuminate the Path to Safety
LSS offers the installation of Photoluminescent (PL) Egress Path Marking Systems and Photoluminescent Exit Signs in compliance with the following codes and standards:
2009 IFC Means of Egress, January 2009

2009 IBC Means of Egress, January 2009

NFPA 101 and 5000, January 2009

California, Chapter 10, January 2008

Connecticut, Section 1026, January 2008

New York City Code, July 2008

New York City Local Law 26, 2004

GSA for all Buildings, January 2009
When hiring LSS you can expect certified technicians, quality experience and product warranty. Our technicians have been trained and certified by the industry's leading manufacturers in installation of Photoluminescent stair nosing, path finding, handrail marking, directional signage and exit sign marking systems. Equipped with experience and expertise in industry code. LSS technicians have performed work in over 4,500 facilities nationwide. Dedicated to customer service, LSS has specifically partnered with manufactures that produce top of the line products that include manufacturer's warranty.
Providing only the best products and exceptional customer service. Contact Life Safety Services today for more information. You're Safe with Us.