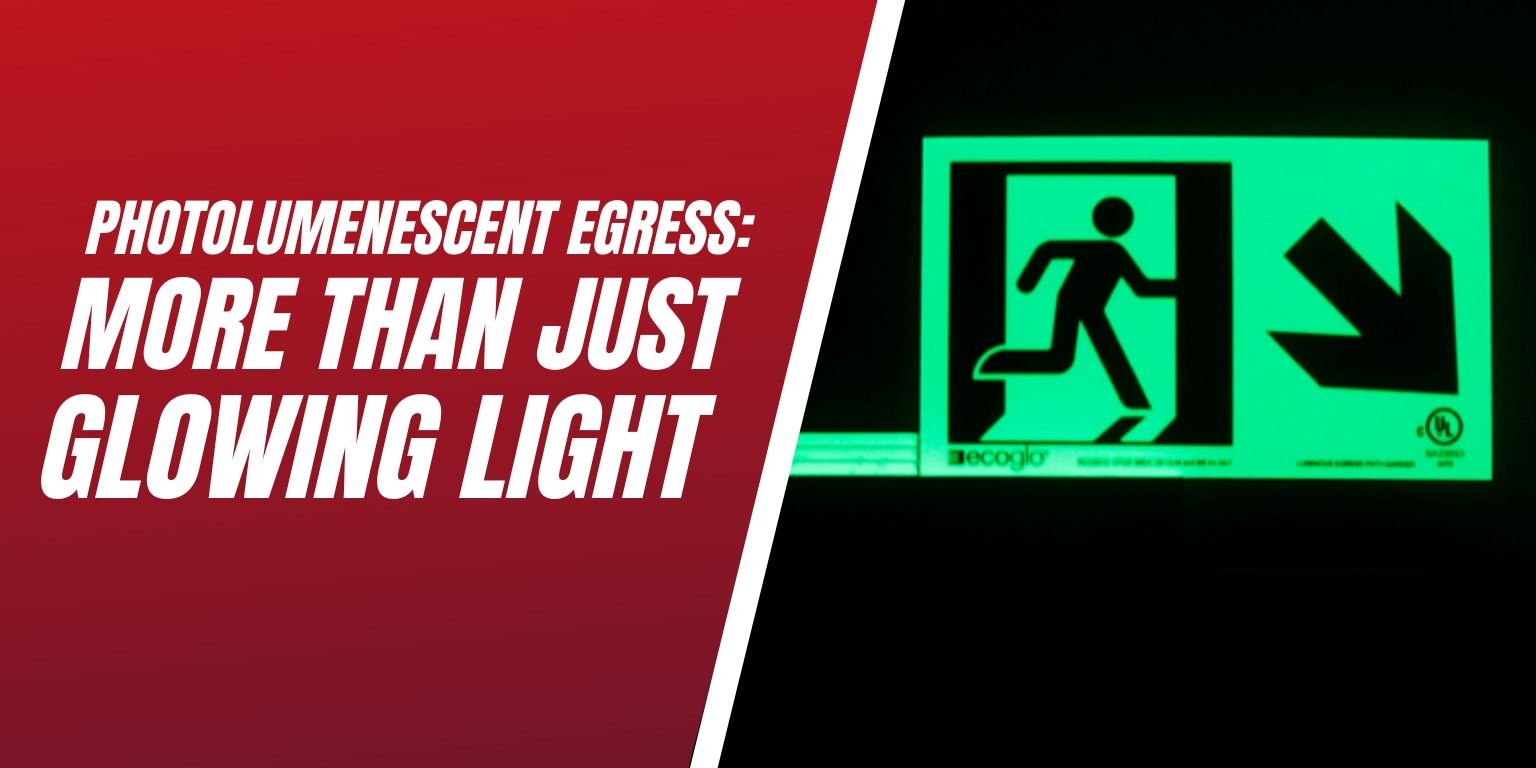 The glowing green stars and half-moons in your childhood bedroom seem like just a happy memory. But Photoluminescent materials have become a huge part in the fire and life safety industry. Photoluminescent egress path marking systems are used to create an outline of steps, landings, handrails and any other pathways to help people escape from dark places during an emergency. While Photoluminescent objects seems fun and exciting in the dark, it is more than just glowing green light.
What Is Photoluminescent Light?
Luminous simply means giving off light. Photoluminescence (PL) is light emission from any form of matter after the absorption of photons. So, when light is shined on a Photoluminescent object, the photons from the light excite the phosphorous molecules. These molecules then slowly release energy that has been stored by re-emitting photons, and creating the recognizable green glow. Therefore, Photoluminescent objects use sunlight, or recycle existing electrical light, to create a glow for continual visual light support. A Photoluminescent prepared building increases the chance of its occupants surviving an emergency.
This is important in the event of a fire, where hallways and stairwells can quickly fill with smoke and become very dark and hard to see. Since smoke rises, the Photoluminescent marking along the floor can help guide people to a safe exit. Because of this, more buildings today are being required by building codes to have Photoluminescent egress path marking systems and exit signs installed.
According to the 2009 International Building Code (IBC) and International Fire Code (IFC), "buildings having floors occupied more than 75 feet above the lowest level of fire department vehicle must be provided with luminous egress path markings".
Why Photoluminescent Egress Marking Systems & Exit Signage?
There is nothing worse than being trapped in a building during a fire. And often times there is little to no warning that a fire has started. That's why it is extremely important to make sure that all of your fire and life safety protection features are working and up-to-date with the codes. This also means making sure the proper egress is provided, including egress signs! Smoke rises, which can cause occupants to become disorientated and cloud their vision, making trips and falls more likely to occur. The use of Photoluminescent strips create an outline of steps, landings, handrails and any other obstacles that could potentially cause someone to have an accident, while exit signs mark the quickest and safest way to evacuate.
Benefits of using Photoluminescent Egress
Meets requirements for codes and standards in existing and new buildings
PL exit signs can contribute to LEED Credits
Require no electrical power or maintenance
Doesn't need to rely on any emergency backup system
Glows up to 48 hours in smoky / black out condition
Non-toxic or radioactive
LSS Life Safety Team
When hiring LSS you can expect certified technicians, quality experience and product warranty. Our technicians have been trained and certified by the industry's leading manufacturers in installation of Photoluminescent stair nosing, path finding, handrail marking, directional signage and exit sign marking systems. Equipped with experience and expertise in industry code. LSS technicians have performed work in over 4,500 facilities nationwide. Dedicated to customer service, LSS has specifically partnered with manufactures that produce top of the line products that include manufacturer's warranty.
Contact Us Here or call 888-675-4519 for more information.
You're Safe with Us.