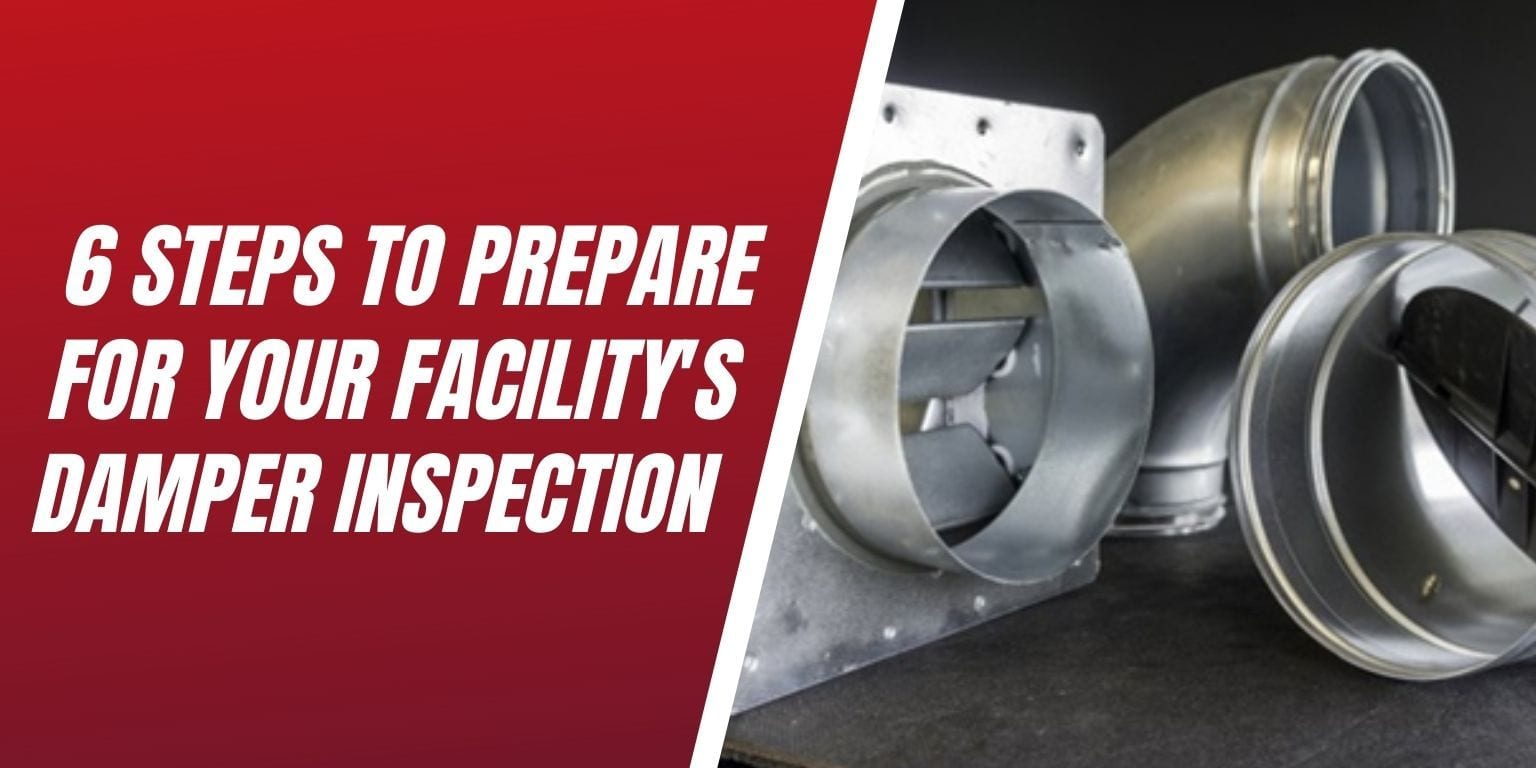 We are already in February, and it may be time to for your facility's fire and life safety inspections again. One important inspection that shouldn't be overlooked are your facility's damper inspection. Since dampers are located in the ductwork of a facility, they are hidden from view making them easy to forget about, and therefore more likely to become deficient.
Whether your facility is due for a fire and smoke damper inspection or not, it might be a good time to start preparing. However, you might be new to the situation, or having difficultly remembering where to start. So, to help guide you with your preparation for your next damper inspection, here are six simple steps to follow:
1. Know When You Are Due for An Inspection
According to the National Fire Protection Association (NFPA) 80 & 105, Non-healthcare facilities must have a damper inspection every 4 years, except for healthcare facilities, which should have an inspection every 6 years. However, if your building is new or has recently undergone renovations, dampers should be inspected and tested one year after installation. Knowing when your next inspection is due can help you avoid any citations or penalties from a local Authority Having Jurisdiction (AHJ).
2. Find Your Previous Inspection Report
Your last inspection report will let you know how many fire, smoke, and combination dampers are in your facility, and which ones, if any, needed to be repaired following the last inspection. It should also show dampers that were inaccessible, that may take a little extra time to ensure they are inspected properly. Having any previous reports handy will help you have an idea of how long the inspection will take and help you schedule appropriately.
3. Find Your Life Safety Maps
Your facility's Life Safety maps will help the inspection process go quicker and smoother. The Life Safety maps help the inspector know exactly where to look for each damper. Providing these maps to the inspector will allow for the job to be finished in a timely manner.
4. Choose An Inspection Contractor
As the fire protection industry grows, many companies are offering fire damper inspections as a part of their service. And with so many different inspectors to talk to, it can be a challenge just trying to choose the best damper inspection company. But you don't have to sweat it, just ask questions. Asking the right questions will help you find a strong partner in keeping your facility in compliance with local and state building codes. A few examples of important questions to ask include:
What type of experience do they have? The more experience a company has in performing damper inspections, means you will have a better quality inspection than a less experienced company.
Are they insured? There are so many different types of insurance out there – always ask for a Certificate of Insurance from the contractor you choose.
What type of training has the staff completed? Technician training should include: infection control, confined space, customer service skills, manufacturers and NFPA codes, just to name a few.
What do they know about the codes and standards? If they don't know the codes and standards, then they won't know whether a damper is in noncompliance and the inspection is worthless.
Do they provide documentation with "before" and "after" photos? Photos taken of the damper before and after it is inspected helps to ensure that the inspection was actually done and reduces customer liability should an actual fire take place.
Don't wait! Schedule your damper inspection in advance. Scheduling your facility's damper inspection in advance will help ensure that you will have a set date and time. Making sure that you have a set date and time out of your schedule will guarantee that your inspection will be done in time.
Finally, once the damper inspection is complete and you have received your report, don't forget to schedule your facility's damper repair work. According to LSS statistics, on average, nearly 22% of dampers fail during a routine fire and smoke damper inspection, so it is not uncommon to have a list of dampers that are deficient and need repairing after testing is performed in your facility. NFPA 80 & 105 states that dampers that are found inoperable must be repaired without delay!