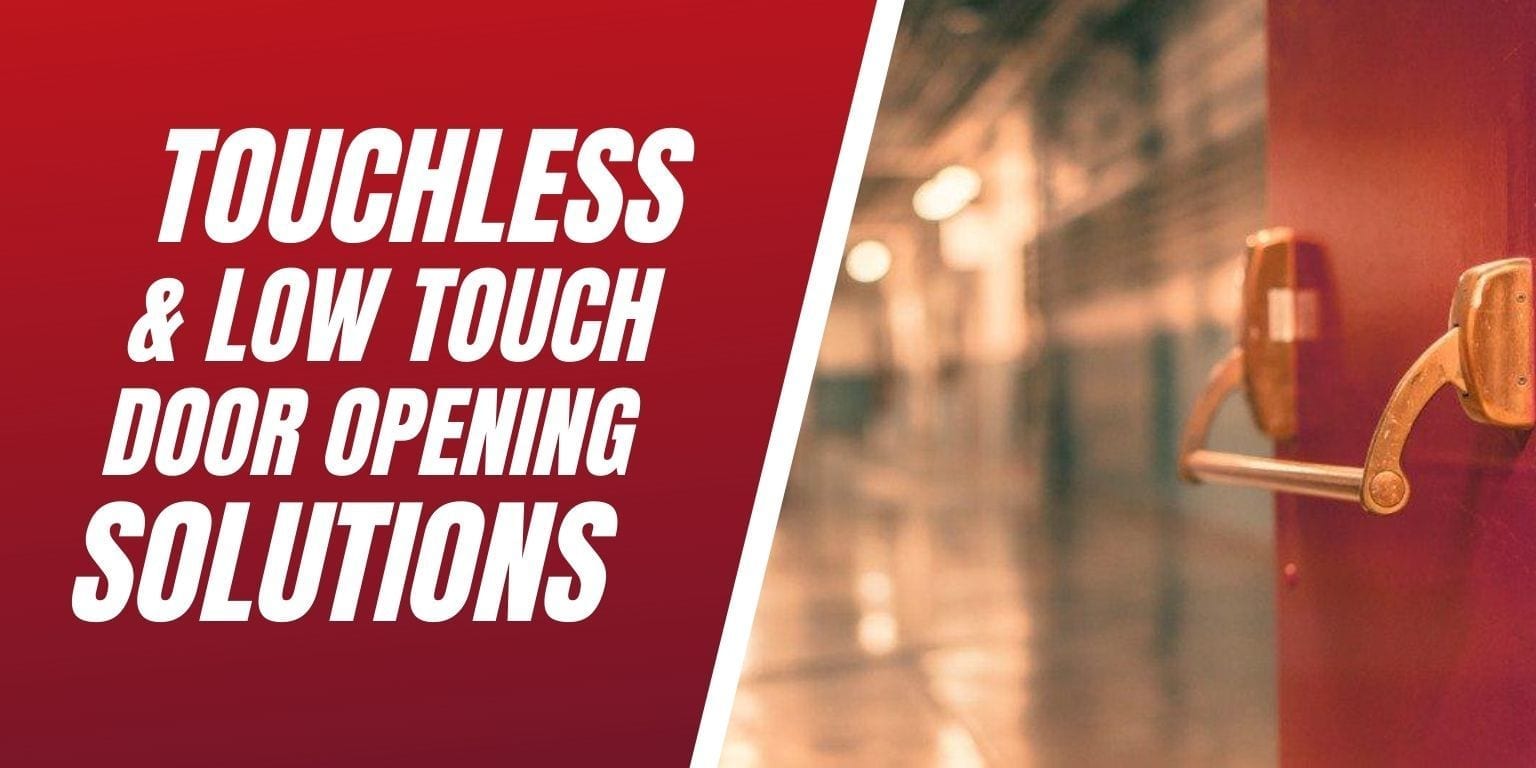 With many state and local COVID-19 protocols recommending the reduction of touch points in buildings, this may be leaving you wondering how you can keep your facility operating while limiting contact with high-touch areas. Well you can improve your facility's cleanliness with specially designed touchless and low-touch door opening solutions. These hands-free door opening solutions coupled with proper hardware cleaning techniques will improve your facility's safety by helping to modify the spread of germs through high frequency touch points within a building.
Touchless Door Opening Solutions
The touchless door opening solutions all each entrance, exit and every door in-between, to have a simple solution to open and close without a touch. All types of swing doors can be easily upgraded to open toothlessly using a Low Energy Door Operator paired with a wave-to-open switch, radio frequency (RF) device, and/or remote control transmitter.
Wave-to-Open Switch is a highly sensitive programming device that can pick up hand gestures within four inches of the switch. This will ensure the door's operation will only be triggered when intended.
Radio Frequency (RF) Device automatically opens doors when within a certain range of the RF device's sensor. An ideal solution for those not able to use push buttons and wave switches. Also good for those with equipment that regularly go through specific doorways, such as maintenance or luggage carts.
Remote Control Transmitter allows you to control the door in front of you with the press of a button to allow people in without the need to touch the door, or keep people out for privacy and security. This solution is ideal for reception areas, offices, conference rooms, nurse's stations, and security desks.
Low-Touch Door Opening Solutions
Not only are the touchless door opening solutions ideal for times like these, but hands-free arm and foot pull door solutions are another easy option for low-touch door operation in new and pre-existing aluminum, metal or wood door openings.
Rockwood's FP1230 Foot Pull can be used with two different movements, 1) placing your foot on the top grip and pulling the door open, or 2) putting your toe underneath and pulling the door towards you.
The Rockwood AP1007 Arm Pull with Plate features rounded corners on the back plate. The groove on the inside of the AP1007 pull comfortably accepts your arm to open the door. This pull can be used with the opening at the bottom.
Rockwood's 193 Hand/Arm Pull can be used the traditional way by pulling on the grip, or, an arm can be hooked underneath, for a no touch solution. This solution is ideal for healthcare and hospital facilities.
The Rockwood AP1140 Arm Pull can be mounted above a pre-existing door pull for a quick hands-free addition, or can be used independently. This solution is best used for restrooms, entrances, corridors, and any door with a pre-existing door pull.
Rockwood's AP1141 Arm Pull is both a retrofit, and stand-alone solution, the AP1141 door pull provides a simple way to open a door without your hands. This solution is also ideal for restrooms, entrances, corridors, and any door with a pre-existing door pull.
Whether your goal is to prevent germ transmission, comply with ADA (Americans with Disabilities Act) guidelines, heighten security and energy efficiency, or offer building occupants a better user experience, the touchless and low-touch door opening solutions satisfies all of those needs.
Now is the time to find out which hands-free door opening solution works best for your facility. For more information about each type of hands-free door opening solution, check out our webinar, Touchless and Low-Touch Door Opening Solutions.