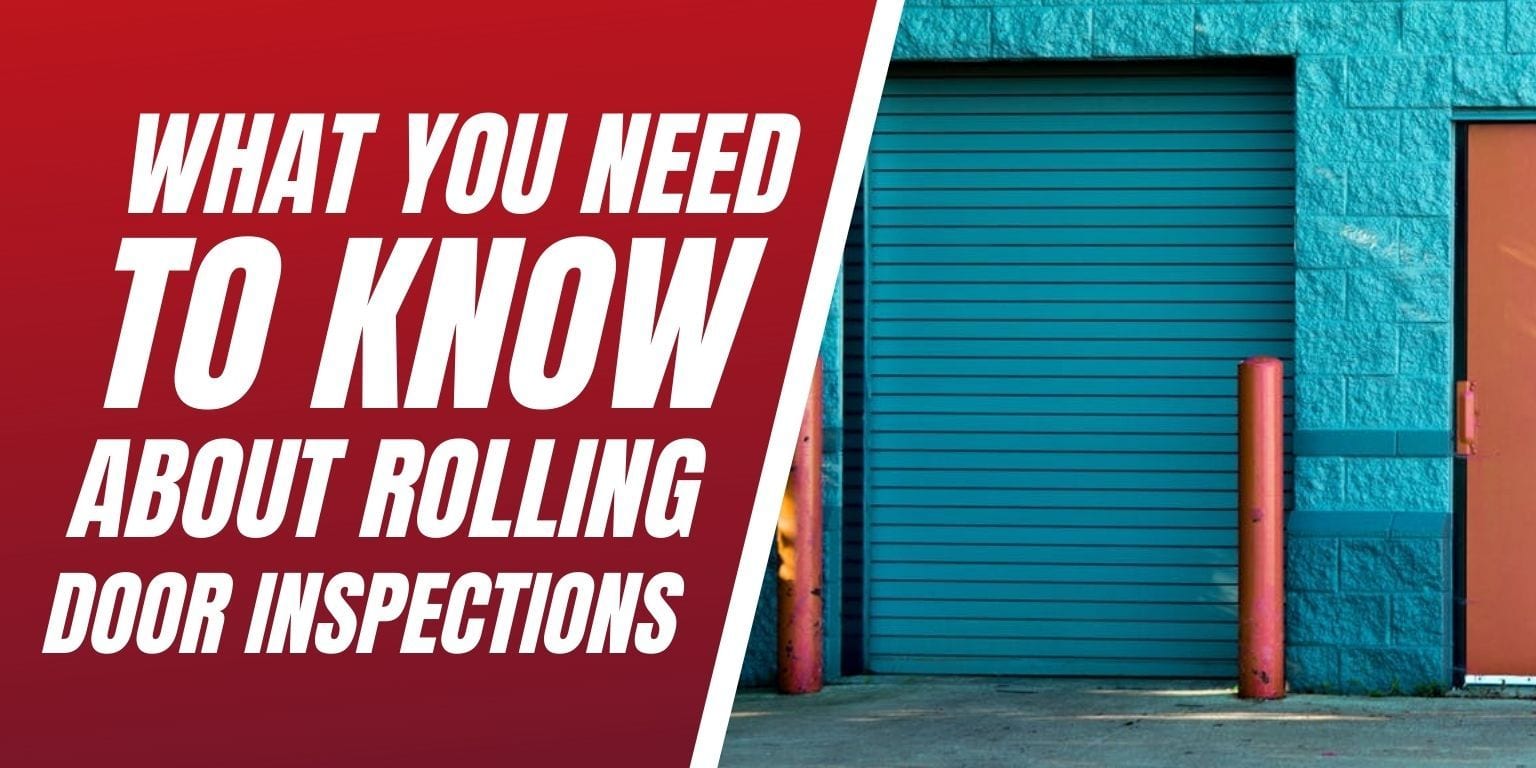 If your place of business uses overhead rolling fire doors, then it is essential to submit to annual rolling door inspections. In order to remain compliant with NFPA-80 regulations, which stipulate that rolling and sliding doors must be inspected once a year and that there must be documentation recording the inspection, being proactive is a must.
Rolling overhead fire door inspections might sound daunting, but they are a routine and straightforward part of any day-to-day business procedure. If you have never had your overhead rolling fire doors inspected before, you have come to the right place. Read on to find out everything you need to know about overhead rolling fire door inspections.
1. Why Are Overhead Rolling Door Inspections Important?
There are a number of reasons why it is important that safety standards for rolling door systems are followed and that inspections are arranged on a regular basis. Rolling doors, especially larger ones for vehicles and cargo, must be able to function in the event of a fire.
If they do not, they can trap fire, smoke, and people in a building and cause serious damage. Personal safety is the most important reason to arrange a rolling door inspection, but that's not the whole story. Inspections are vital if you wish for your business to remain legally compliant and avoid any hefty fees or legal sanctions.
Arranging regular inspections will also help to keep your insurance liabilities lower. This means that regular inspections can actually save you serious money in the long-run.
2. What Needs to Be Inspected
A rolling overhead fire door inspection is a fairly routine process that involves a number of mandatory checks. Knowing what these are ahead of time can help you prepare for your inspection and help achieve the best outcome. In a routine rolling overhead fire door inspection, the following checks are usually made:
Mounting and assembly bolts are not missing and are all firmly fixed in place
Slats have not experienced any wear and tear
The end locks are not missing, broken, bent, or loose
The automatic closing mechanisms are fully functional
The bottom bar is fixed in place, with no loose bolts
The hood and flame baffle are in-place and in working condition
Smoke detectors and release devices function properly
Sash chain and cable links are not obstructed or coated with dust and grease
If all of these requirements are met, you have passed your rolling door inspection!
3. Overhead Rolling Door Maintenance Tips
In order to pass your rolling door inspections every time and keep compliant, some rolling door maintenance is in order. The following steps will help keep your overhead rolling fire doors in top condition:
Oil the moving parts on the rolling door every three months
Check the electrical operator gear for oil leakage regularly
Check that the roller chain is not too loose and tighten it every few months
Ensure that all bearings and fitting are properly lubricated
Check that the door and slats are properly aligned
By following these simple tips, you can ensure your overhead rolling fire doors are safe, secure, and compliant.
Arrange an Overhead Rolling Fire Door Inspection Today
If you have not yet arranged a rolling day inspection for your business, now is the time. If you want to arrange an inspection that is quick, stress-free, and thorough, do not hesitate to get in touch with our friendly and professional team today.